Important Documents to Have in Place Before Dementia Sets In
Jan. 24, 2023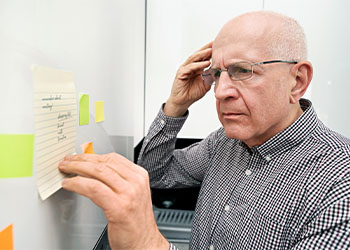 We've all heard how important it is to have a will in place and start estate planning early. Hopefully, most of you have done this already even if you still feel young and healthy. However, there are circumstances where taking care of all your estate planning needs becomes even more important; namely, if you or someone you love is suffering from dementia or are seeing initial signs of dementia as this can impact your legal capacity to make your own decisions.
If you're in the Boca Raton area and would like to speak with an estate planning attorney about legal planning for Alzheimer's, dementia, or cognitive impairment, call me, Eric H. Light, P.A.
Cognitive Impairment and Legal Capacity
When you start estate planning, you're likely to hear the term "legal capacity." This simply means that someone is mentally capable of making legal and rational decisions for themselves. If people draft wills, trusts, or medical directives when they're still relatively young, the idea of legal capacity won't come up a lot, but when older individuals are estate planning, it becomes more important. Those with diagnosed cognitive disorders, such as dementia or Alzheimer's, will often see a steady decline in their cognitive abilities and their legal capacity will then come under scrutiny.
Important Documents to Have in Place
Because diseases like this are somewhat unpredictable (meaning they can advance very slowly or quickly), there are certain legal documents to have in place before dementia threatens your legal capacity. Two of the most important are a power of attorney and a power of attorney for healthcare.
These documents will allow you to name an individual you trust to make decisions on your behalf for finances and medical care should you become incapacitated or unable to legally represent yourself. This can also include decisions about end-of-life care like what kind of treatments you do or do not want, what kind of care setting you want to be in, and what life-saving procedures you want. You can also include an advanced directive or Physician Orders for Life Sustaining Treatment (POLST) that lets you write out what kind of healthcare you want ahead of time. However, there's no way you can possibly account for every medical decision, which is why the power of attorney is essential.
Another important document to have is a will and in some cases, a trust. A standard will allows you to assign your assets to a beneficiary upon your death, but you can also use a will to name a legal guardian for a minor child or pet and to name an executor of your estate. If you opt for a trust, you'll be able to move certain assets into the name of your trustee while you're still living. Once you pass away, your trustee can immediately transfer the asset into the name of the beneficiary without the court's intervention.
Work With an Experienced Estate Planning Attorney
Although there are online templates you can use to write up a will or other estate planning documents, nothing can compare to the individualized and expert attention you'll get from working with a local attorney. Your lawyer will look at your specific needs and wishes and design an estate plan tailored to you. Additionally, you'll have someone you can stay in communication with as your needs change and you need to make revisions to your documents. A skilled estate planning attorney can also help you administer a will for which you've been named executor.
If you have more questions about how dementia can affect your estate plan, reach out to me at Eric H. Light, P.A. in Boca Raton, Florida.